Last week we were at a Terveysteknologia ry – Healthtech Finland event, talking about SBA's work surrounding the new Packaging and Packaging Waste Regulation (PPWR).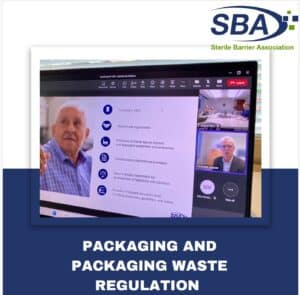 Whilst we strongly support the ambition of revising the Directive on this Regulation, we must ensure that sterile barrier systems (SBS) are given specific consideration, as we're not talking about standard packaging; SBS is specifically designed medical packaging meant to keep the medical devices sterile until the point of use, meeting the highest safety standards for patients.
Our latest position paper covers topics to be considered such as:
– Functioning of the EU's internal market,
– Risk management of hazardous healthcare waste,
– Cleaning and decontamination processes for recycling,
– Prioritisation of patients' safety in the transition to the sector's circularity,
– Recycled content in sales packaging of critical supplies of medical components and;
–  Conformity assessment procedures.
Whilst our membership is already committed to reducing the carbon footprint of the industry's supply chain, it must be done and supported without compromising patient safety and product integrity. Read more about the SBA considerations in our latest Position paper.